English Amateur Theatre

Update:Unfortunately there are no more advance tickets available.

The Bodensee Players Fall 2023 Production will be:

"A Murder is Announced"

A Miss Marple Murder Mystery
by Agatha Christie, adapted for the stage by Leslie Darbon

It will be presented on November 22th to 25th.

See Next for more information.

This amateur production is presented by special arrangement with Samuel French, Ltd, a Concord Theatrical Company.

You can register here for notification of when ticket reservations are available.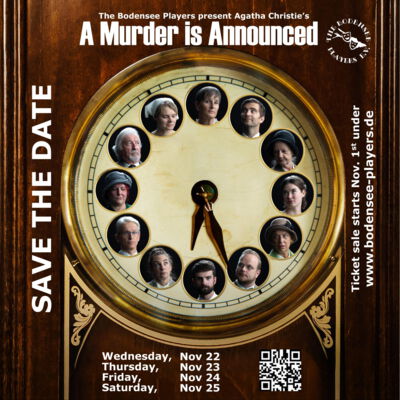 In the meantime, have a look at Past performances, remember the fun and get excited again.
Bodensee Players Visitors
Counting since:
1999-10-27

Impressum Datenschutz
© 2023 Bodensee Players