The Bodensee Players Spring 2019 Production will be:
"No Dinner for Sinners"
by Edward Taylor
It will be presented on May 22rd-25th in the Casino Theatre. All performances begin at 8pm. Doors open at 7:15pm.
You can register here for notification of when ticket reservations are available.
This amateur production is presented by special arrangement with Samuel French, Ltd.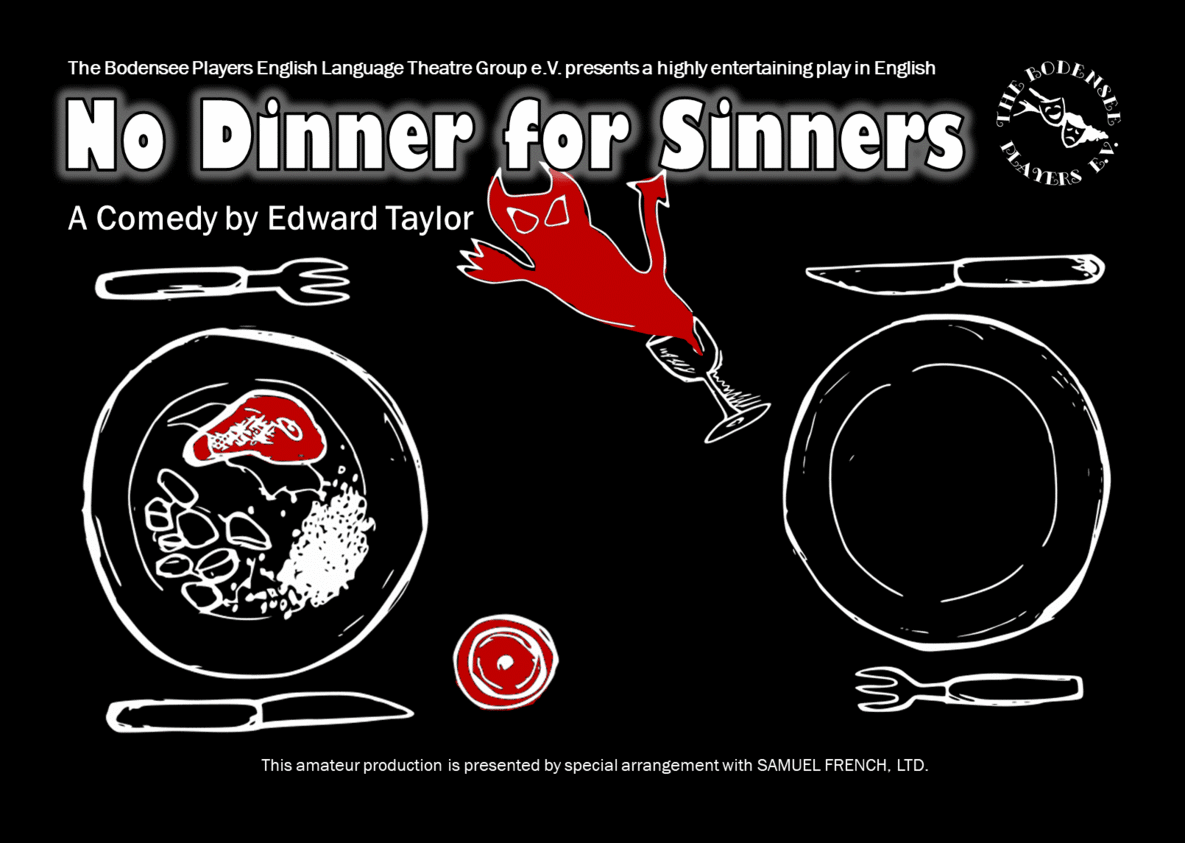 Synopsis
"No Dinner for Sinners" by Edward Taylor

Jim Watt leitet das Londoner Büro einer Börsenfirma und veranstaltet ein Abendessen für seinen erzkonservativen und fanatisch religiösen amerikanischen Chef Bill McGregor und dessen Frau Nancy. Da Bill das Zusammenleben unverheirateter Paare kategorisch ablehnt, bittet Jim seine Freundin Helen, sich für den Abend als seine Frau auszugeben. Dieser Vorschlag geht voll in die Binsen und Helen lässt ihn wutentbrannt sitzen. Jim steht ohne Ehefrau und ohne Köchin da! Nachdem er sämtliche Ex-Freundinnen erfolglos abgeklappert hat, bleibt nur eine letzte Option: seine etwas exzentrische Putzfrau Edna würde die Aufgabe gegen eine kleine Gebühr übernehmen. Die Katastrophe nimmt ihren Lauf, als Edna den Kochlöffel schwingt und gleichzeitig die Gäste mit "frommen" Anekdoten unterhält. Im unpassendsten Moment kehrt Helen zurück, um ihm doch als "Ehefrau" zur Seite zu stehen. Ein komisches Missverständnis kommt zum andern, und verzweifelt versucht Jim, die Situation - und seinen Job - zu retten. Dabei handelt er Lügen und Ehefrauen fast so schnell wie Bill seine Aktien.

Jim Watt runs the London office of a stock exchange firm and is hosting dinner for the International Director and his wife, Bill and Nancy McGregor, members of the anti-permissive society group. As Bill strongly disapproves of unmarried couples living together, Jim asks his girlfriend, Helen, to pose as his wife for the evening. This suggestion goes down like a lead balloon and Helen walks out on him, leaving Jim with no partner, no cook and - after ringing around all of his ex-girlfriends rather unsuccessfully - only one last option: his eccentric cleaning lady, Edna, who will do the job for a fee, of course. Disaster reigns as Edna attempts to cook an elaborate dish while keeping her guests happy with "religious chat". At an extremely inopportune moment, Helen returns to play the role of his wife! A string of hilarious miscommunications unravel as Jim tries to save the situation - and his job - by trading lies and wives almost as quickly as Bill is trading shares.

Impressum Datenschutz
© 2019 Bodensee Players