The Bodensee Players Fall 2019 Production was:
"Out of Order"
by Ray Cooney
It was presented on November 25th-28th in the Casino Theatre.
This amateur production is presented by special arrangement with Samuel French, Ltd.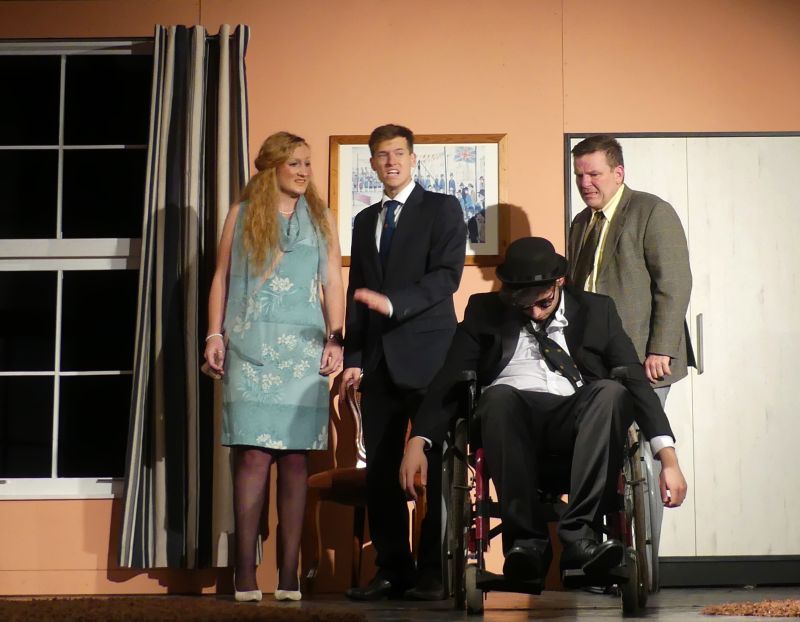 Pictures
Click thumbnail to open slide show.
Open thumbnail link in new window to download full image.
Cast
| | |
| --- | --- |
| Richard Willey | Andreas Ladwig |
| The Manager | Sebastian Fetköter |
| The Waiter | Sean Morgan |
| The Maid | Sonja Giesenberg |
| Jane Worthington | Sam Kretchmer |
| A Body | Bünyamin Öncel |
| George Pigden | Mathias von Alberti |
| Ronnie Worthington | Walter Nägele |
| Pamela Willey | Maren Matthes |
| Gladys | Sharon Hainer |
| | |
| Director | Stephanie Kretschmer |
| Producer | Sharon Hainer |
| Lights & Sound | Frank Klieber |
| Prompt | Martin Rolls |
| Publicity | Walter Nägele |
| Stage Design | Ian Saunders, Mathias von Alberti |
Synopsis
"Out of Order" by Ray Cooney

Richard Willey ist Minister in der britischen Regierung und möchte den Abend mit Jane Worthington, einer der Sekretärinnen der Opposition, verbringen. Leider läuft alles total schief, beginnend mit der Entdeckung einer Leiche, die im Schiebefenster ihrer Hotelsuite eingeklemmt ist. Verzweifelt versucht Richard, sich aus dieser extrem schwierigen Situation zu retten und ruft seinen Assistenten George Pigden zu Hilfe, der sich durch Richards Lügen immer tiefer in Widersprüche verstrickt und am Ende eine Identitätskrise durchmacht. Als Ronnie, Janes verstörter junger Ehemann, auf der Suche nach seiner Frau hereinplatzt, wird es noch schlimmer. Man nehme noch einen skrupellosen Kellner, Frau Pamela Willey, ein italienisches Zimmermädchen, einen besorgten und leicht inkompetenten Hotelmanager und zu guter Letzt die sehr kompetente Krankenschwester Gladys Foster und das Chaos ist perfekt!

Verwirrt? Ja, das solltest du auch sein! Bring ein Taschentuch mit, du wirst es brauchen, um deine Lachtränen zu trocknen!

Richard Willey, a Government Junior Minister, plans to spend the evening with Jane Worthington, one of the Opposition's secretaries. Unfortunately, things go disastrously wrong, beginning with the discovery of a dead body trapped in the sliding window of their hotel suite. Desperately trying to get out of an extremely sticky situation, Richard calls his assistant, George Pigden who, through Richard's lies sinks further and further into trouble with everybody and ends up going through an identity crisis. Things go from bad to worse with the arrival of Ronnie, Jane's distraught young husband. With the addition of an unscrupulous waiter, Mrs Pamela Willey, an Italian Maid, a worried and slightly incompetent Hotel Manager and the very competent Nurse Gladys Foster things really come to a head!

Confused? Yes, you should be! Bring a hanky, you'll need it to mop up your tears of laughter!

Impressum Datenschutz
© 2023 Bodensee Players