The Bodensee Players Fall 2022 Production was:
"Strike Up the Banns"
a comedy by Olwen Wymark
It was presented on November 15, 16, 17, 18 and 19 in the Casino Theatre.
This amateur production was presented by special arrangement with Samuel French, Ltd., a Concord Theatrical Company.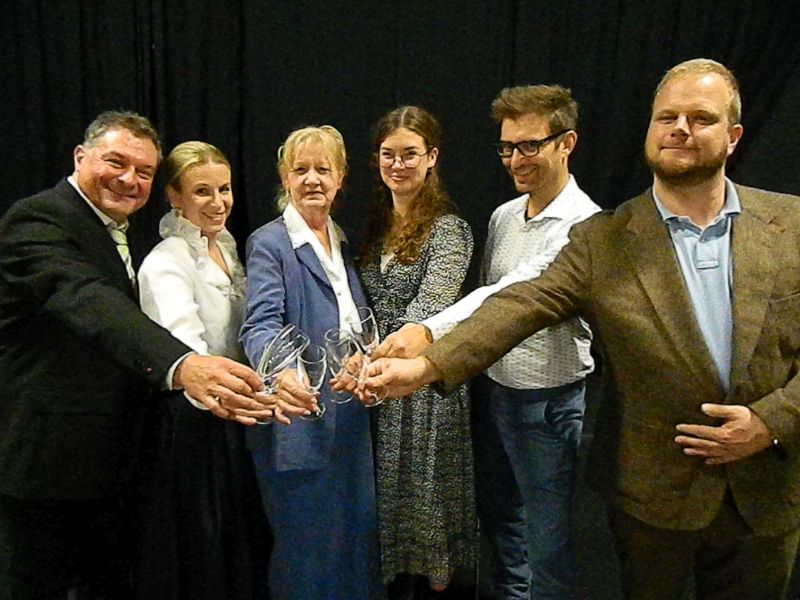 Cast
| | |
| --- | --- |
| Mrs. Carmichael | Stephanie Kretschmer |
| Geraldine Stringer | Franci Weber |
| Reginald Stringer | Walter Nägele |
| Billie Stringer | Marleen Martin |
| Mr. Beamish | Florian van Keulen |
| Bunny Beamish | Jörg Copeland |
| | |
| Director | Gabi Gerdau |
| Producer | Stephanie Kretschmer |
| Stage Design & Publicity | Mathias v. Alberti |
Synopsis
"Strike Up The Banns" by Olwen Wymark

When they were young, Geraldine and Reginald lived the roaring 70's hippie life in London but now they are trapped in a dull, middle-aged, suburban corset of respectability. Geraldine's domineering mother, Mrs. Carmichael, never misses an opportunity to point out their inadequacies. Reginald has invited his pompous boss to dinner to celebrate the engagement of their children, Billie and Bunny. When everyone tells Geraldine what to do and what not to do she finally snaps and decides to liven up the evening a bit (we won't spoil the fun by giving too much away). Wild anarchic chaos ensues, convictions are being challenged and a lost love is rekindled.

Olwen Wymark's suburban comedy is a rebel's fantasy, a hostess's nightmare, and a hilarious treat for you, our esteemed audience of the Bodensee Players e.V.!

Als sie noch jung waren, lebten Geraldine und Reginald das wilde Hippie-Leben der 70er Jahre in London, aber jetzt sind sie im langweiligen Spießbürgertum der Vorstadt gefangen. Geraldines despotische Mutter, Mrs. Carmichael, lässt keine Gelegenheit aus sie auf ihre Unzulänglichkeiten hinzuweisen. Reginald hat seinen selbstherrlichen Chef zum Abendessen eingeladen, um die Verlobung ihrer Kinder Billie und Bunny zu feiern. Alle hacken auf Geraldine rum und sagen ihr, was sie tun und lassen soll, bis sie schließlich ausrastet und beschließt, den Abend ein wenig aufzumischen (mehr wird hier nicht verraten; wir wollen ja den Spaß nicht verderben). Wildes anarchisches Chaos entsteht, Überzeugungen werden auf die Probe gestellt und eine verlorene Liebe wird neu entfacht.

Olwen Wymarks Vorstadtkomödie ist ein subversiver Traum für den Rebellen in uns, ein gelebter Alptraum für alle gestressten Dinner-Party Gastgeber und ein urkomischer Leckerbissen für Sie, unser geschätztes Publikum der Bodensee Players e.V.!
Words and Phrases
Act 1
Strike Up the Banns!
das Aufgebot bestellen
(im Sinne von "die Verlobung bekanntgeben")
pigsty
Saustall
jumble
Trödelmarkt
tranquillizers
Beruhigungsmittel
sequin dress
Paillettenkleid
to repudiate
abweisen
paterfamilias
Hausherr
ne'er-do-well
Nichtsnutz
deprived
sozial benachteiligt
to chafe
aufreiben
to mitigate
entschärfen
perm
Dauerwelle
It matters not how strait the gate…
Gedicht "Invictus" von William Ernest Henley
charlady
Putzfrau
dowdy
unansehnlich
stodgy
langweilig
kowtowing
unterordnen
paltry
erbärmlich
off-licence
Spirituosengeschäft
titivations
Verschönerungen
not quite the ticket
fühlt sich nicht wohl
as chalk and cheese
wie Tag und Nacht
dole
Sozialhilfe
kinship
Verwandtschaft
bite (on) the bullet
in den sauren Apfel beißen
to tinkle
klingeln
fuddy duddy
altmodisch
boorish
unzivilisiert
fibrositis
Bindegewebsentzündung
frolic
herumtollen
fibs
Flunkereien
chivalry
Ritterlichkeit
to perjure
einen Meineid leisten
Act 2
| | |
| --- | --- |
| figment | Hirngespinst |
| lark | Streich, Jux |
| ravenous | ausgehungert |
| yashmak | Jachmak (Schleier) |
| self-indulgence | Maßlosigkeit, Zügellosigkeit |
| larder | Speisekammer |
| presumptuous | überheblich, anmaßend |
| to be at sixes and sevens | völlig durcheinander sein |
| precipience | Einsicht |
| chums | enge Freunde |
| depraved | verwahrlost |
| degenerate | heruntergekommen |
| to run errands | Besorgungen machen |
| page boy | Hotelpage |
| to jilt sb. | jmd. am Altar versetzen |
| chickadee | Süße |
| cad | Flegel |
| Brownies | Mädchengruppe der Pfadfinder |
| deplorable | bedauerlich |
| permissive society | freizügige Gesellschaft |
| hankering | sehnend, verlangend |
| battered | geschlagen |
| bounder | Schurke |
| to be round the bend | einen an der Klatsche haben |
| make it snappy | Mach hin! Mach fix! |
| derelict | verfallen, baufällig |
| bucking bronco | bockendes Wildpferd |
| to sue sb. for sth. | jmd. für etw. verklagen |

Impressum Datenschutz
© 2023 Bodensee Players