The Bodensee Players Spring 2019 Production was:
"No Dinner for Sinners"
by Edward Taylor
It was presented on May 22nd-25th in the Casino Theatre.
This amateur production was presented by special arrangement with Samuel French, Ltd.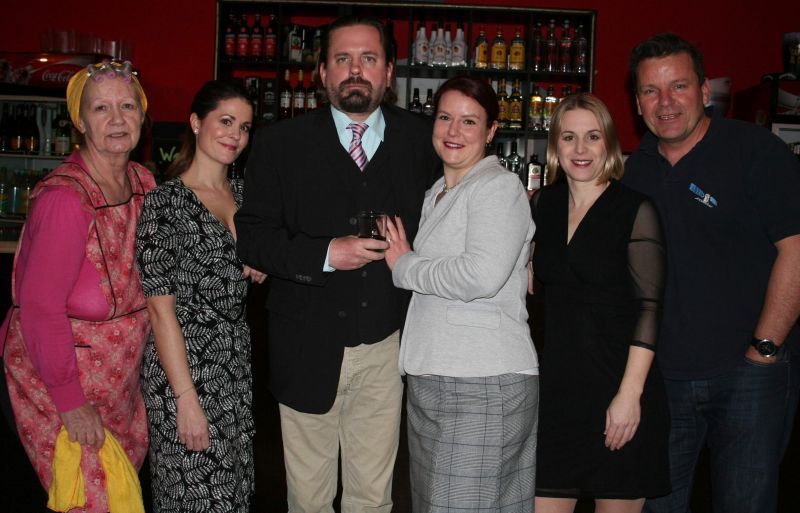 Pictures
Click thumbnail to open slide show.
Open thumbnail link in new window to download full image.
Cast
Jim Watt
Tim Sowa
Helen Foster
Francisca Weber
Edna Chapman
Stephanie Kretschmer
Terri Pringle
Blair Russell
Bill McGregor
Robbie Russell
Nancy McGregor
Maren Matthes
Director
Mathias v. Alberti
Producer
Stephanie Kretschmer
Stage Design
Amalia v. Alberti &
Ian Saunders
Prompt
Doris Sieber
Lights & Sound
Frank Klieber
Synopsis
"No Dinner for Sinners" by Edward Taylor

Jim Watt leitet das Londoner Büro einer Börsenfirma und veranstaltet ein Abendessen für seinen erzkonservativen und fanatisch religiösen amerikanischen Chef Bill McGregor und dessen Frau Nancy. Da Bill das Zusammenleben unverheirateter Paare kategorisch ablehnt, bittet Jim seine Freundin Helen, sich für den Abend als seine Frau auszugeben. Dieser Vorschlag geht voll in die Binsen und Helen lässt ihn wutentbrannt sitzen. Jim steht ohne Ehefrau und ohne Köchin da! Nachdem er sämtliche Ex-Freundinnen erfolglos abgeklappert hat, bleibt nur eine letzte Option: seine etwas exzentrische Putzfrau Edna würde die Aufgabe gegen eine kleine Gebühr übernehmen. Die Katastrophe nimmt ihren Lauf, als Edna den Kochlöffel schwingt und gleichzeitig die Gäste mit "frommen" Anekdoten unterhält. Im unpassendsten Moment kehrt Helen zurück, um ihm doch als "Ehefrau" zur Seite zu stehen. Ein komisches Missverständnis kommt zum andern, und verzweifelt versucht Jim, die Situation - und seinen Job - zu retten. Dabei handelt er Lügen und Ehefrauen fast so schnell wie Bill seine Aktien.

Jim Watt runs the London office of a stock exchange firm and is hosting dinner for the International Director and his wife, Bill and Nancy McGregor, members of the anti-permissive society group. As Bill strongly disapproves of unmarried couples living together, Jim asks his girlfriend, Helen, to pose as his wife for the evening. This suggestion goes down like a lead balloon and Helen walks out on him, leaving Jim with no partner, no cook and - after ringing around all of his ex-girlfriends rather unsuccessfully - only one last option: his eccentric cleaning lady, Edna, who will do the job for a fee, of course. Disaster reigns as Edna attempts to cook an elaborate dish while keeping her guests happy with "religious chat". At an extremely inopportune moment, Helen returns to play the role of his wife! A string of hilarious miscommunications unravel as Jim tries to save the situation - and his job - by trading lies and wives almost as quickly as Bill is trading shares.
Words and Phrases
Act 1, Scene 1
| | |
| --- | --- |
| market research | Marktforschung |
| blow raspberries | Pupsgeräusch machen |
| conscientious | gewissenhaft |
| suspense | Spannung |
| cretin | Idiot |
| chimpanzee | Schimpanse |
| retarded gibbon | zurückgebliebener Gibbon (Langarmaffe) |
| singed | angesengt |
| Moral Outrage | moralische Empörung |
| anti-permissive society group | anti-permissive Gesellschaft |
| modesty board | Fußraumblende |
| puerile | kindlich, infantil |
| mockery | Farce |
| hypocrisy | Heuchelei, Scheinheiligkeit |
| temporary trollop | Kurzzeit-Flittchen |
| embarrassed | verlegen |
| cronies | Spezi, Kumpan |
| smug | selbstgefällig, selbstzufrieden |
| conniving | hinterhältig |
Act 1, Scene 2
| | |
| --- | --- |
| blower | Quasselstrippe (Telefon) |
| mischief (get up to) | Dummheit begehen |
| fanatical puritan | fanatischer Puritaner |
| rabid monk | Tollwütiger Mönch |
| nasty | gemein, fies |
| tipple | alkoholisches Getränk |
| nooks & crannies | Ecken und Nischen |
| mangy lion | schäbiger Löwe |
| tantamount to incest | gleichbedeutend mit / wie Inzucht |
| pie-eyed | knülle |
| unchivalrous | unritterlich |
| pigsty | Saustall, Dreckbude |
Act 2, Scene 1
| | |
| --- | --- |
| nick hubcaps | Radkappen klauen |
| fags | Kippen, Zigaretten |
| verger | Küster, Kirchendiener |
| nibbles | Häppchen, Knabberzeug |
| titbits | Leckerbissen |
| squiffy | beschwipst |
| myopia | Kurzsichtigkeit |
| licentiousness | Liederlichkeit, Zügellosigkeit |
| wanton depravity | schamlose Verdorbenheit, Sittenlosigkeit |
| indecency | Schamlosigkeit |
| detergent | Waschmittel |
| unfortunate | bedauerlich, unglücklich |
| minced gumboot | gehackte Gummistiefel |
| screw up | versemmeln |
| hoodwink | täuschen |
| stampede | Massenpanik, wilde Flucht |
| quaint | bizarr, kurios |
| temperamental | launisch |
| (stupid) oaf | Dummkopf, Ochse |
| trapped ferret | eingesperrtes Frettchen |
| hunch | Gefühl, Intuition |
| Strewth! | "Da legst (du) dich nieder!" |
| jeepers | Jesus! |
| swell nibbles | großartige Knabbereien |
| famished | ausgehungert |
| addictive | macht süchtig |
| barmy | verrückt, bekloppt |
| pig's ear | verpfuscht |
| distracted | abgelenkt |
| council tip | Mülldeponie |
| skivvy | Handlanger, Dienstmächen |
| appalling | erschreckend, himmelschreiend |
| legit | rechtmäßig |
| Baloney | Unsinn, Schwachsinn |
| web of sin | Sündennetz |
| sordid triangle | schmutziges Dreieck |
| mistress | Geliebte |
| say grace | Tischgebet sprechen |
| den of iniquity | Sündenpfuhl |
| confound your hotpot | zum Teufel mit deinem Eintopf |
Act 2, Scene 2

| | |
| --- | --- |
| wrath | Zorn, Empörung |
| paramour | Liebhaber |
| villain | Schurke, Bösewicht |
| cohabitation | eheähnliche Gemeinschaft |
| limb of Satan | Glied des Satans |
| philanderer | Aufreißer |
| decency | Anstand |
| wicked lecher | geiler Lüstling |
| gross moral turpitude | schwerwiegende Verwerflichkeit |
| rabble | Pöbel |
| lewd behaviour | unanständiges Verhalten |
| have one's wicked way | jemandem an die Wäsche gehen |
| disgraceful | erbärmlich, beschämend |
| cognisant | bewusst |
| dazed | betäubt, benommen |
| Mickey Finn | präparierter Drink |
| birthmark | Muttermal |
| persuade | überreden |
| Forgive us our trespasses | Vergib uns unsere Schuld |

Impressum Datenschutz
© 2023 Bodensee Players